HFS Hydrogen Patented  Product – Photos shown below
Increase the fuel economy of the engine
Run the engine cleaner, better and smoother
Deliver increased power/torque at lower RPM
Increase the engine lifespan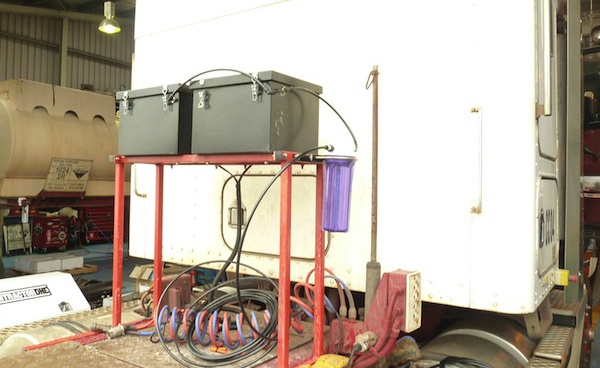 Our H.F.S.  PATENTED Hydrogen system is designed to use all the available electrical energy by using a series of three PATENTED double electrolysis cells. As a result , these three cells use 4.4 Volt each running at 18 amp so that 13.2 volt (battery voltage ) is used in total.   Therefore no wasted voltage / energy / power. High speed jetting and porting , together with the SPECIALIZED Patented electrolysis cartridge , increases system efficiency therefore producing more Hydrogen gas. As a result of this the greater efficiency means less electrical load to produce the desired volume of gas for your engine – which is 12.5 % to 20% of the engine capacity in liters / min – a 4 litre engine needs 500 to 800 mls of hydrogen gas per minute.
Other manufacturers are all based on the same inefficient design using "Neutral" plates rather than individual cells , to break up the applied voltage into six 2.2 volt steps. The NEUTRAL PLATE arrangement DOES NOT WORK and produces massive OVERVOLTAGE HEATING water to boiling point.
Patented Hydrogen system
Our systems use PATENTED High pressure pumping systems to produce turbulent flow or water past the plates which allows a MUCH WEAKER SOLUTION to be used as well as making the system much more efficient making more gas with less HEAT. IN comparison  other poorer systems use Buoyancy to circulate the water, which is slow, inefficient and generates MORE HEAT and LESS GAS. Simply put a more effective and efficient system is attained by using high pressure high volume pump.
Patent details      
Hydrogen
Hydrogen ions and hydroxide ions  are in very low concentration in water. It is these Hydrogen  and Hydroxide ions that are producing the gas, not water. However,Our systems Use PATENTED shape / geometry of the cells and improving the fluid flow it is now possible to use only water rather than having concentrated dangerous and damaging caustic solutions. Our systems use a special PATENTED chemical etching process which prevents cells wearing away ( also called electrostripping) as increasing the gas volume produced.
Our Hydrogen Fuel Systems cater towards cars, trucks, busses, boats , generators, pumps etc. HFS systems are well suited to any vehicles or engines that are powered by petrol, diesel or LPG.   Consequently , Large companies, Small Business owners and the average Customer can achieve savings using the HFS system to assist fuel their diesel, petrol or LPG fuelled engine.
Use the "Fuel savings" Excel file below calculate the time taken for a Hydrogen system to pay for itself in fuel savings
Trucking system for a 16 Litre Cumins powered Heavy haulage truck
Gen 15 system designed  for engines 4 litre to 8 litre capacity.. heavy haulage vehicles and 4WD.
Photos of systems fitted to Trucking Units 15 and 16 litre CAT powered and Cumins Powered
Coogee chemicals with 2 Gen 20 systems mounted in alloy box mounted  rear of cabin, Stainless steel recycling tanks  2 x 20 Litre
4336total visits,8visits today