Description
Side opening Lockable steel enclosure box for hydrogen system – 660 mm x 370 mm x 370 mm for use by trucking , mining and agricultural applications . Measures 670 mm x 370 mm x 370 mm. Ideal for housing a Gen 15 Single or Double system as used by large vehicles and Trucks, mining , agriculturaland marine. applications
System has a secure lock to avoid unwanted Tampering of Hydrogen systems. Enclosure can also be used as a toolbox fo cars, trucks, mining and for wheel drive applcations.CFan be easliy loaded to 30 kg
Also available for larger dimensions and larger loading applications
Measures 660 mm x 370 mm x 370 mm
Steel enclosure box Ideal for trucking and 4 wheel drive for mounting Gen 15 and Gen 20 systems. Comercial application. Lockable heavy duty steel Box for loads up to 30 kg.
See photos of trucking applications of coogee chemicals Trucking for application of these Side opening steel enclosure boxes / toolboxes
Paypal has not been working consistantly recently.
To order a Unit —- 1. Email me on

glknox11@live.com

or
2. SMS message to

0403177183
with your

name , Phone number , email address and Postal address

and I will email you a Quote , my Company ABN and Payment Details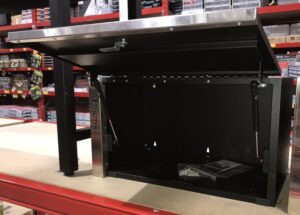 call Gevan 0403177183