Hydrogen Kit for your Car, Truck, Boat, Generator
Hydrogen Generators Trucks Cars. Hydrogen Kits for use on cars, trucks, trawlers, shipping, generators, mining and farming
Link Below for the range of Hydrogen kits used for Diesel, Petrol and LPG fueled vehicles of different engine capacity and power output.
The cell shown above is a Gen 20 system unit
A Gen 20 System is made of 6 cells (3 double cells) mounted in a high density polyethylene enclosures with Laser welded plates –
(Better than TIG WELDING),
Gen 15 Cells have STAINLESS STEEL cable Glands for electrical connections and are securely tied together with 20 mm aluminum angles and M5 Stainless steel 316L threaded rod and Nuts.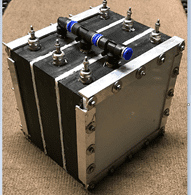 1. Gas and Fluid flow is passed through Glass reinforced HDPE "Legris" fittings.
2. This Unit is heat and chemical resistant and is ideal for any engine greater that 4 liter capacity.
3. These systems can be scaled up for extremely large engines where two units can be connected in parallel.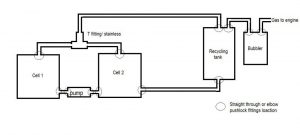 4. The design is robust and extremely efficient , especially when attached to a High Pressure pumping system that pumps electrolyte and gases through the sealed system.
This Gen 15 and Gen 20 system design is ideal for all terrain vehicles, Gensets and trawlers.
a. The electrolysis cells are Electro-chemically arranged as "Booster cells" to increase the Oxidation/ Reduction of the water into Hydrogen / Oxygen with reduced load on the vehicle electrical system.
b. The "Booster cell" arrangement is secured into steel and aluminum enclosure boxes to be used in all protected and exposed conditions.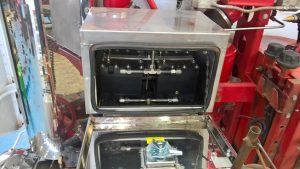 Twin Gen 20 Hydrogen Generator systems for 16 Litre diesel fueled truck