Description
Ready to Use10m 50Amp Anderson Plug Extension Lead 6mm TwinCore Automotive Cable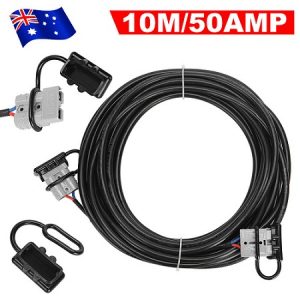 Please Note
if paypal is not working email me on glknox11@live.com and I will email you a quote with company bank details
10m 50 Amp Anderson Plug Extension Lead 6mm Twin Core Automotive Cable Wire — Postal charges for international postal charges ask seller
Product description:
10m of 2 core 6MM Twin Sheath Trailer cable
V90 PVC Insulated and Sheathed
Core Colours = 1. Black 2. Red
Sheath colour = Black
Nominal Area Square = 4.59mm2
Nominal O.D = 5.7mm x 9.6mm
Industry equivalent in MM Thickness = 6mm
Number of cores = 2
Amp Rating = 50amps & 38amps at 30 degrees
Insulation thickness = .6
Sheath thickness = .8
Electrical resistance at 20c (ohm/km) = 4.1
Strand Number & Size = 57/.32
Waterproof and Dust-Proof
Easy to use and easy to install, Anderson plugs were installed ready to use
Applications
Suitable for many applications including:
• Caravan
• 4wd
• Cars
• Motorhome
• Trailers
• Bike
• And many others…
Please contact us on via email for bulk order discount.
All other products enquirers, please send message via eBay.
Pick up from Vermont warehouse is welcome.
Proudly Australian owned and operated, We dedicated to providing you with the very best value for your time and money.
here are no pushy sales people, no need to travel long distances to purchase your items and no disappointment in learning the store doesn't carry your requested tool upon arrival. We endeavour to give you the most accurate description of our products, shipping, payment and warranty terms.
We are transparent in the way we operate our business and our customer service team who work around the clock to make sure your product arrives in great condition and on time.
We are open 24 hours a day, seven days a week, so you can make your purchase whenever you want or need it.
After more than six years on online trading, we understand that if we don't look after our customer, someone else will. That's why we have a customer team to ensure your every purchase and delivery from us goes as smoothly as possible.
for use on trucking, marine, farming, cars, work vehicles. 12 volt or 24 volt . up to 30 amp or using the 8 mm cable up to 50 amp capacity